Discover more from Secret Oranges
Experiments with Time, Photography, and Comic Books!
For those interested in how Tharg's 2000 AD Command Module changed location over the years, I thought it time to share some unseen moments from my own negative files.
The Nerve Centre Droids, c.1989.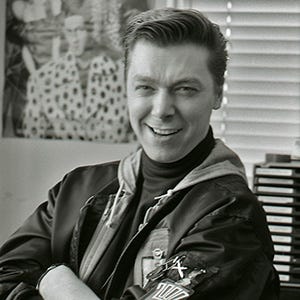 Above: These were our units in South Thames Studios, just over the road from the 2000 AD offices in Southwark. John Tomlinson and I were both freelancing for 2000 AD and Marvel UK at the time, and shared the studios with our Deadline magazine companions, Steve Dillon and Brett Ewins, who were our neighbours in adjacent units. John and I eventually managed to secure a bigger office with an actual ceiling, and Nick Abadzis was able to move in and join us. More about that in The Road to Deadline.
Above, Left to right, Steve MacManus, 2000 AD's editor in chief with Jon Davidge, our MD at the time, a really great guy who famously granted creators a royalties deal. He was supportive, and genuinely interested in the success of 2000 AD. Here he's holding the Speakeasy Award for 'Best Continuing Title'. Next to him, 2000 AD editor, Richard Burton and Revolver editor, Peter Hogan. This was sometime in 1990, after the move from Irwin House, Southwark Street, to the much more salubrious Greater London House, 180 Hampstead Rd, London NW1. I was now officially on staff here for 3 days a week designing 2000 AD, and working freelance for the music business and other Fleetway titles on the other two days. Missing from these photos is another editorial droid by the name of Steve Edgell.
Above: This was taken with a timer the same year, in my studio/darkroom in an East London high-rise, and was the first time Rian Hughes and I collaborated. At this point I was designing the brochure for the launch of Revolver, that Rian had just created the entire brand identity for, and we've been pals ever since.
Above: Audrey Wong, looking immaculate in a world of absolute chaos! Once again we'd all moved to yet another location. This time, the vicinity of Russell Square and Bloomsbury. You may have heard of the Bloomsbury Set, well, that wasn't us. Richard Burton had launched the now legendary, Sonic the Comic on another floor of our new building, so John Tomlinson took the reigns of 2000 AD.
Above: John Tomlinson was 2000 AD editor for a good many progs, and was responsible for my all-time favorite cover line. Buy this comic. We know where you live! After which he handed over to David Bishop. I don't have any photos of David in the office, but I do have this one I took of him with some admirers at the Oxford Union debate in 1997.
John took this strange photo of me in front of my CRT and anti-radiation screen. Note the case full of floppy disks, and… the ashtray, a must-have item of the 20th Century office. I realize I'm condensing the history of 2000 AD into a few photographs here, but after David Bishop left to become a successful author, Andy Diggle took over as editor with Matt Smith as associate editor. After this, the three of us moved to a sort of Dickensian looking building a short walk away from London Bridge train station, and the famous Borough Market. This was the dawn of the Rebellion age of Tharg.
We often stayed late, and this is a widescreen view of the Command Module, with Andy (left) and Matt (right). There was a pub immediately opposite our front door, which was kind of handy to retire to after a long day.
This was my corner of the office with an even larger CRT (cathode ray tube), and a rather sad looking plant.
The Command Module eventually relocated to Oxford, the home of Rebellion. In 2001, I went freelance and started work on my Alternity art project. Andy went freelance and wrote some of the hottest books for DC comics, and Matt Smith has since become the longest serving 2000 AD editor of all time!
Photos © 2023 Steve Cook